SIOUX CITY -- What a difference some newer clothes can make for characters in a 17th-century opera. 
"Dido and Aeneas," about ancient Carthaginian queen Dido falling in love with Trojan war hero Aeneas, is being performed at Morningside College Friday through Sunday. The costumes are done in a way that writer Henry Purcell probably didn't have in mind -- all in the name of making it more approachable. 
Richard Gammon, the show's director (who comes all the way from New York City), stressed that the words of the opera haven't been changed a bit -- only the "look" has been altered, with the help of costumer A.J. Delfs. 
"It's not necessarily doing an 'update,' which is maybe a little bit confusing for people, but it's doing it with respect to the text," he said. "We're just doing -- instead of togas and panniers, we do it in jeans and leather jackets."
Odd though it may seem, Gammon said there's nothing wrong with changing up the costumes and style of a historic opera. 
"People (including myself) choose to do modern aesthetic, partially because it's much more approachable for an audience, it's easily identifiable," he said. "But for the students I think it's even more important. Unless they are trained in period movement and period style, there's not a ton of time in the rehearsal period to come in and teach that."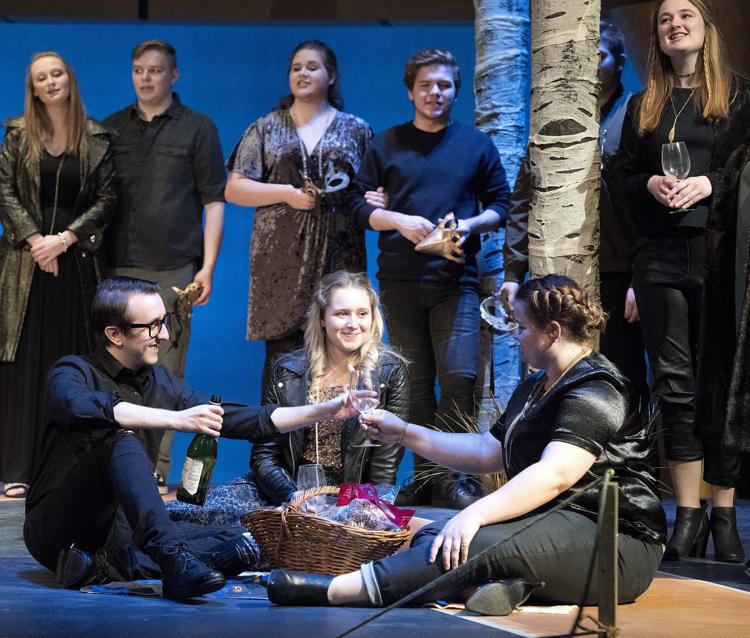 But isn't there a disconnect on stage when actors wear modern clothing, speak in a style that would've been familiar to Samuel Pepys, while portraying people 2,700 years ago?
Gammon says no -- in his opinion, olden-time outfits just make the characters harder to relate to for modern audiences.
The characters' words and sentiments might be more relatable when their clothes aren't so distracting. Perhaps dressing Queen Dido in a leather jacket speaks to the way her ancient life struggles still resonate today. 
"I mean really, like a corset and pannier, sets up a little bit of a barrier, because it's such a period piece," he said. 
Gammon said he was brought to Morningside through a friendship with Morningside professor Suzanne Hendrix-Case. 
"She and I went to school together, we were colleagues in Kansas City, and she asked if I would come up and direct a little," he said. 
The production features a small pit orchestra, as well as a traditional chorus that incorporates some local actors.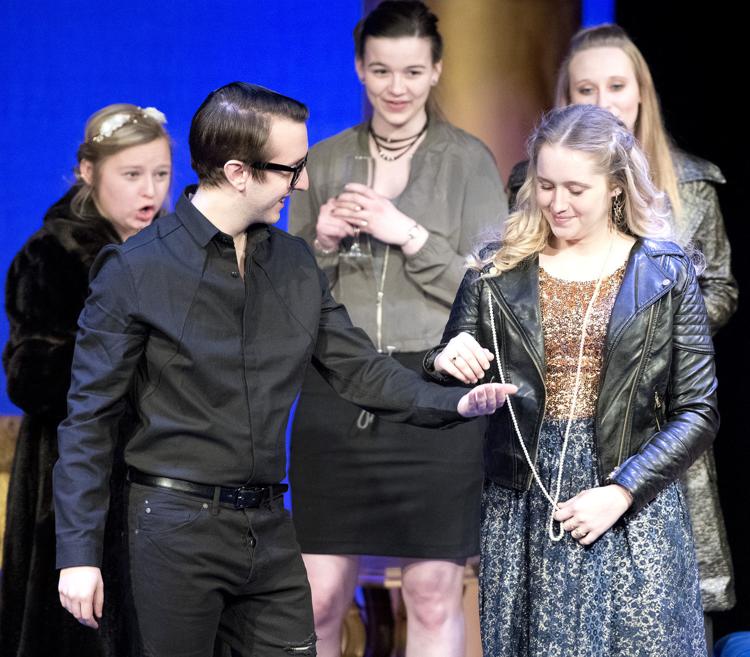 "They do act very much like a Greek chorus," Gammon said. "But then they're also integrated within the actual action on stage." 
Senior bio-psychology major Jori Ellenbecker plays the title role of Dido, who is tormented by depression and anger, yet as a ruler, must try and maintain her composure. 
"She is complicated," Ellenbecker said. "She is a queen in essence, and she has a lot of psychological ailments she's dealing with, due to the death of her husband. So at the beginning there, she is quite upset."