Designers, jewellers and artists are turning northern Australia's noxious pests into handbags, high heels and even fetish masks
Lia Tabrah, who runs the fashion label Vermin with Perina Drummond, didn't realise how strongly Australians feel about cane toads.
The designer started creating handbags made from the pest's skin a few years ago, assuming "it would be a niche thing – maybe tourism, maybe [for the] European market". Now she and Drummond have curated a toad-themed exhibition for Melbourne design week. Covid-19 precautions have now closed the show, but Tabrah says Vermin has a waiting list of orders for "handbags, man bags, wallets and stubby coolers".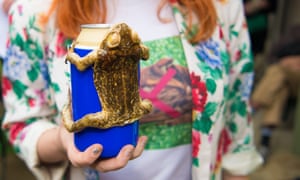 "We got so many crazy emails from strangers all over," Tabrah says. "There was one where a woman's dog had died by toad, and now she wanted a purse. All of these people hate [toads] so much that they want a piece!"
Cane toads were introduced to Australia in 1935 in an attempt to control beetles that were decimating local sugar cane. It didn't work out as planned. The toads had little effect on the beetle population, instead causing havoc in the country's ecosystems. They poison and prey on native animals and insects, compete for food with local fauna, and breed at an alarming rate.
Today there are an estimated 200 million cane toads in Australia – and they are on the move.
The exhibition, Toad Busting, "fights the war on cane toads by transforming these toxic invaders of Top End Australia into bespoke designs". Toad leather was sourced by Tabrah and Drummond from the Torres Strait Islands in January, and given to artists and designers including Kate Geck, Lisa Waup, the Huxleys and Jenny Bannister.
Each creator produced wild and warty art and apparel as diverse a woven "healing figure" inspired by connection to country and inherited traumas (Waup); a "plague bag" with protruding pierced cones of leather and dangling toad legs (Bannister); and a gold gimp mask (the Huxleys).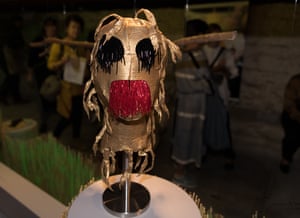 "Everyone has their own individual practice and aesthetic," Tabrah says. But there was a unifying sense of apocalypse chic – a loud and tropical Mad Max-style celebration of an invader being conquered.
"[The cane toad] is such an environmental pest," Tabrah says. "It's killing our wildlife. Rangers have programs of culling. Why not use that product?"
She's been designing "kitsch luxury Australiana" for about a decade. Think "gold-plated crocodile feet and kangaroo scrotum bedazzled with Swarovski crystal". But she hadn't worked with toad skins until she began a sustainability-focused collaboration with Mona's Kirsha Kaechele.
Drummond, on the other hand, knows all about toads. She's from Thursday Island, part of the Torres Strait Islands, where "they're everywhere". Her brother is a ranger who worked closely with the pair in their research and taught them the best methods of "toad busting" – the common and encouraged practice of catching and humanely euthanising the pests.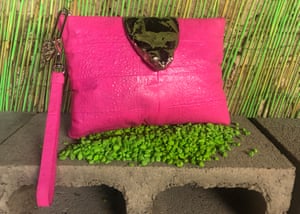 "There's no local toad [leather] production here so our concept is to source and start our own cane toad leather tannery," Tabrah says.
Drummond adds: "I think that now we're in that phase of fashion where we are looking for more diverse and sustainable sorts of products."
Australian cane toad leather is a luxury fashion item for the moment. It can be a tough material to work with, there's limited amount of material on each small animal, and all toads must be sourced in the wild. But the animals are an incredibly widespread problem and, warts and all, this is a stylish solution.
Toad Busting took place at B O T T O M Art Space, but closed early due to the Covid-19 outbreak
We've got an announcement…
… on our progress as an organisation. In service of the escalating climate emergency, we have made an important decision – to renounce fossil fuel advertising, becoming the first major global news organisation to institute an outright ban on taking money from companies that extract fossil fuels.
In October we outlined our pledge: that the Guardian will give global heating, wildlife extinction and pollution the urgent attention and prominence they demand. This resonated with so many readers around the world. We promise to update you on the steps we take to hold ourselves accountable at this defining point in our lifetimes. With climate misinformation rife, and never more dangerous than now, the Guardian's accurate, authoritative reporting is vital – and we will not stay quiet.
We chose a different approach: to keep Guardian journalism open for all. We don't have a paywall because we believe everyone deserves access to factual information, regardless of where they live or what they can afford to pay.
Our editorial independence means we are free to investigate and challenge inaction by those in power. We will inform our readers about threats to the environment based on scientific facts, not driven by commercial or political interests. And we have made several important changes to our style guide to ensure the language we use accurately reflects the environmental emergency.
The Guardian believes that the problems we face on the climate crisis are systemic and that fundamental societal change is needed. We will keep reporting on the efforts of individuals and communities around the world who are fearlessly taking a stand for future generations and the preservation of human life on earth. We want their stories to inspire hope.
We hope you will consider supporting us today. We need your support to keep delivering quality journalism that's open and independent. Every reader contribution, however big or small, is so valuable. Support the Guardian from as little as $1 – and it only takes a minute. Thank you.