Sneaking sneakers into every office dress code.
While it's tough to beat the Oxford as a classic all-around office dress shoe, sometimes it's good to switch things up in the footwear department. We're living in a fashion-obsessed age, after all, which means that even at work, you'll occasionally want a modern alternative to that trusty old stalwart. Plus, a little extra comfort never hurts (literally). Luckily, there are a whole host of options out there that take classic silhouettes and re-imagine them for the contemporary workplace, all with modern materials and styling. No matter your office dress code, here are three shoes to break you out of your Oxford rut, plus what to wear them with.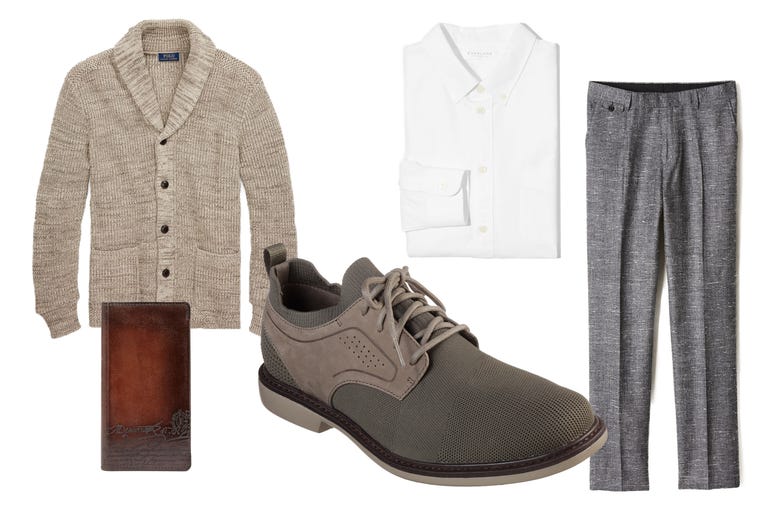 Somewhere between dressed up and casual lies business casual—that difficult-to-define attire that's always tricky to lock down. While a blazer is never a bad idea in this situation, it's also perfectly acceptable go the cardigan route. Just keep the color dialed down, and pair it with a crisp white shirt, a pair of light wool or wool-blend trousers, and some Skechers saddle shoes. You'll look sharp without feeling overdressed.
Shop the shoes:
Clubman-Westside ($105) by Mark Nason SHOP
Get the look: Kooper Trouser ($265) by Billy Reid, billyreid.com; Japanese Oxford ($58) by Everlane, everlane.com; Shawl-Collar Cardigan ($145) by Polo Ralph Lauren, ralphlauren.com; Scritto Leather iPhone X case ($500) by Berluti + Native Union, mrporter.com.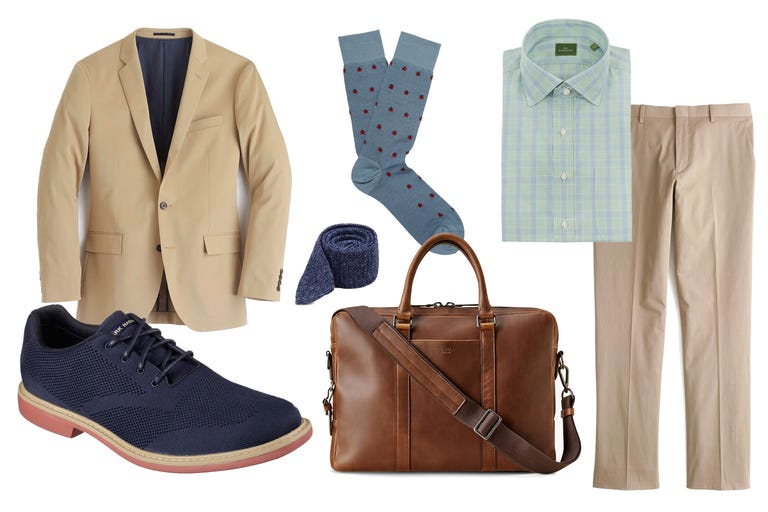 If you work in a more conservative setting—say, a bank or a law firm—a suit (or, at the very least, a dress shirt and tie) may still be the status quo. You can, however, add a dose of personality to that uniform simply by thinking beyond the black or brown shoe. Try these navy bucks with a cotton khaki suit for a fresh take, and then bring it in for a landing with a soft-patterned shirt, a knit tie, and some cool socks.
Shop the shoes:
Hardee ($90) by Mark Nason SHOP
Get the look: Ludlow Suit Jacket ($298) by J. Crew, jcrew.com; Ludlow Suit Pants ($158) by J. Crew, jcrew.com; Dress Shirt ($150) by Sid Mashburn, sidmashburn.com; Tie ($25) by The Tie Bar, thetiebar.com; Socks ($30) by Marcoliani, mrporter.com; Computer Brief Briefcase ($795) by Shinola, shinola.com.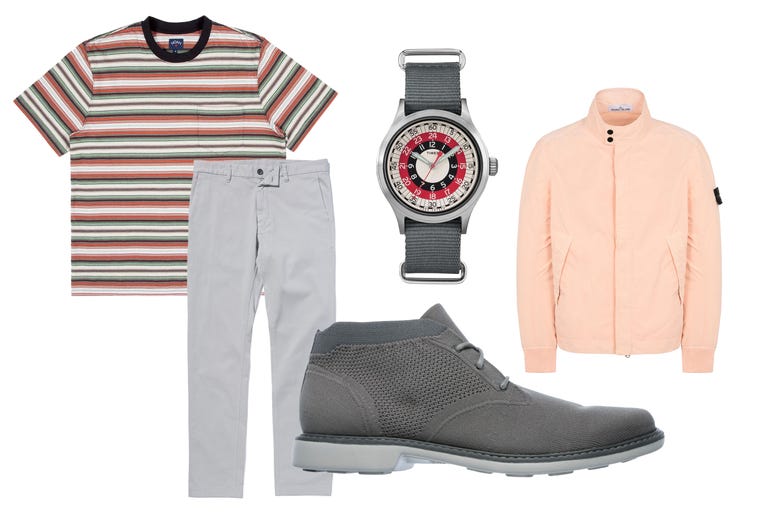 At the office, "dress-down" can be a bit of a loaded word. Keep things smart and stylish with a striped tee, a pair of chinos, a colorful light jacket, and desert boots. For an added bonus, polish the whole look off with a classic military-style sports watch. (Hot tip: This works great for Sunday brunch, as well.)
Shop the shoes:
Weldon ($90) by Mark Nason SHOP
Get the look: Jacquard Stripe Tee ($88) by Noah, noahny.com; S.E.A. Legs Slim Pants ($88) by Outerknown, outerknown.com; David Tela Light-TC Jacket ($605) by Stone Island, stoneisland.com; The Mod Watch ($138) by Todd Snyder, toddsnyder.com.
SHOP NOW - Genuine Leather Shoes Mens Fashion Outfit
Resource - BY SCOTT CHRISTIAN  M