A leather belt can make or break a man's outfit. Once you've identified the style, width, pattern and grain you're after for your leather belt, it is important to assess the quality of your product. But how to judge the quality of leather belts for men? There are several criteria: the maison that produces them, of course, but also the quality of the leather itself, the quality of the buckle and the stitching work. Duret Paris offer a wide variety of leather belts for men which pass those tests with flying colours.
The first element to judge the quality of a leather belt for men from is the quality of the leather itself.
Your belt can be made of three types of leather, as indicated by a stamp on the underside of your belt: genuine leather, top-grain leather, or full-grain leather.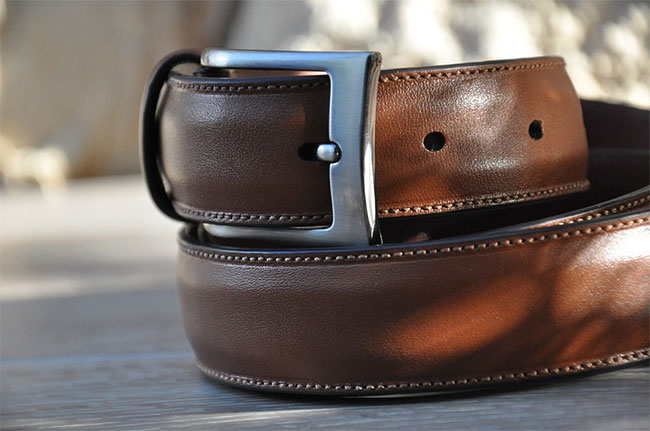 Genuine leather is the lowest quality of all products made out of real leather. It won't last as long or look as nice as higher-quality leather, but it is a good compromise price-wise, making it a good first ladder on the leather scale, avoiding leatherette at all costs. Leather belts for men marked as genuine leather will be several layers of low quality leather bonded together with glue and then painted to look like a better-quality leather.
Finer leather goods are made of top-grain leather. This type of leather is used for the large majority of designer brands for smaller leather goods such as purses and wallets Top-grain uses a full-grain leather and sands away the imperfections, before it is treated and coloured to create a homogeneous surface on the belt. This will make for a good quality belt, although it won't last as long as a full grain leather belt.
A full-grain leather belt uses the raw material, including the imperfections and inherent roughness of the original material. Full-grain is hard a very resistant leather, which develops a rich patina with time.
Watch out for that real leather smell and not the kind of cheap, vinyl-like smell. If possible, pull and bend the belt: it shouldn't have any signs of breaking or tearing. High-quality leather belts for men should feel heavy and dense, yet supple and soft to the touch.
At Duret Paris, every piece of leather skin is rigorously selected to insure the highest level of material is used for every leather belt for men sold by the maison.
Round, square or rectangular, single of double, matt or polished, wide or narrow, the manufacturer of your handmade leather belt for men should offer a wide array of buckles, made of stainless steel in various colours, gold or palladium. A high-quality buckle should feel soft to the touch and be water-resistant.
After the leather itself and the quality of the belt buckle, inspect the quality of the stitching. Hand-stitching is the ideal type of stitching: aesthetically pleasing and more robust than machine stitching.
If the stitching is high-quality, the thread won't unravel, even when one stitch falls apart (which is rare). You should be able to theoretically pull the stitches one by one. Inspect the quality of the material used to stitch as well. Linen is ideal. Every stitch should look flat, straight, robust and sharp.
Every outfit needs the perfect belt. Duret Paris offers perfect handmade leather belts for men, for both casual and smarter looks, which you can also have custom-made to fit perfectly with your shoes and other leather goods.
High-quality leather, stainless buckle, robust hand-stitching make for a high-quality leather belt for men just as they are produced by Duret Paris.
SHOP NOW - Genuine Leather Belts Men's Fashion Trend
Resource: Author: Boyana Ivanova / https://made-to-measure-suits.bgfashion.net/article/16035/57/How-to-judge-the-quality-of-leather-belts-for-men#popup2