The sole survivor: Last shoe repair shop in valley closing
MICHAEL ROKNICK Herald Business Editor 

Dec 28, 2017
HERMITAGE – Mike May isn't trying to be a heel in closing his store. After all – he's put his heart and soul into the business.
HERMITAGE – Mike May isn't trying to be a heel in closing his 
May, owner of May's Shoe Repair in Hermitage, said it's time to close, after 54 of years in the trade and with a 75th birthday next month.
It's believed May's is the last full-service shoe repair shop in the Shenango Valley, leaving Greenville Shoe Hospital in Greenville as the only remaining repair store for all of Mercer County.   
It hasn't always been that way.
"At one point there were more than a dozen shoe repair stores in the Shenango Valley,'' May said. "Farrell alone had six stores.''
There's multiple reason for the demise of shoe repair shops.
It's a trade requiring lots of skill gained through experience. May's found younger adults want to be paid a tidy sum for that training which most repair shops can't afford.
"When I was young I worked in this trade for nothing just to learn what to do,'' he said.
What's really stomping down the business is that shoes made today lack the quality of those made a couple generations ago.
"It's like everything else we see now. Shoes being made today are meant to be thrown away, not repaired,'' he said. "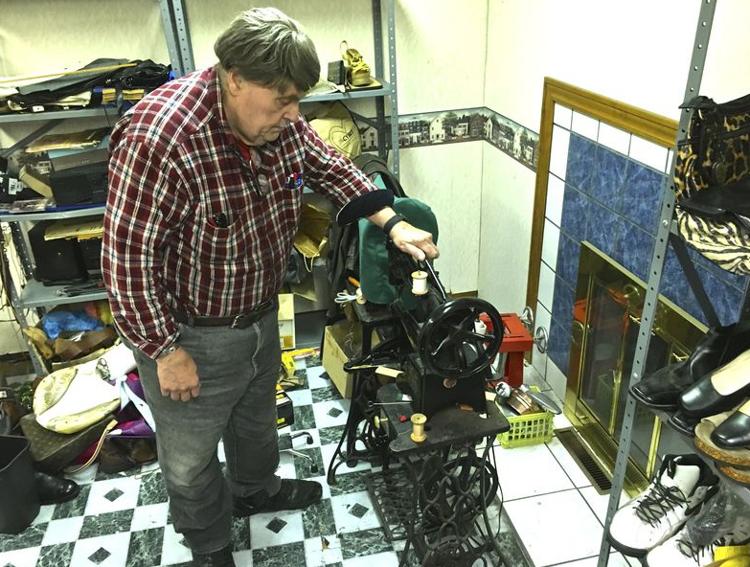 Cheap vinyl, which has a short lifespan, is now being used for shoe production instead of more expensive leather that lasts longer, he notes. Also, cotton and linen are being used for seams on shoes instead of durable but more expensive nylon.
"When you get cotton and linen wet the shoe falls apart,'' May said.
Another factor was shoe manufacturers abandoned American shores in favor of China's cheaper labor costs.
There are shoe brands creating good quality shoes, such as American-based Allen Edmonds, he notes. But shoes of that quality run $200 and more.
May was attracted to the shoe busine ss early in life. Growing up in the 1950s, it was a time when local industries were at their peak. Sharon Steel Corp., Chicago Bridge & Iron, Westinghouse and GATX employed thousands and hired workers just graduating high school. 
Opening his store on May 15, 1963, he wasn't just in the repair trade. For 20 years he sold Red Wing shoes, heavy-duty styles for workers on shop floors.
As industrial jobs began drying up his shoe sales plummeted. He eventually bailed out of that side of the business and concentrated on repairs.    
He's moved his shop over the years. Initially, the store was on Stambaugh Avenue near Leslie Street in Sharon. Since then, he moved several times: to East State Street at Stambaugh, then to Hermitage next to what is now Murcko's restaurant and finally to 39 Ellis Ave.
Tools used in his shop for repairs are from another era. His foot-powered sewing machine dates back to 1929 with the other machine hailing from 1955.
"To buy something similar to these now it would run $5,000 to $6,000 – and they wouldn't be as good,'' May said.
Tags: Local |Shop |Commerce |Economics |Repair |Repair Shop |May |Trade
RESOURCE - http://www.sharonherald.com/news/the-sole-survivor-last-shoe-repair-shop-in-valley-closing/article_1d3e3106-fda3-50fb-9991-678228d15063.html